About us
Sona FM, a community radio initiated by Valliappa Foundation, is based in Salem, Tamil Nadu. With years of service to underserved communities, Valliappa Foundation commits to empowering the community in Yercaud and Salem districts through radio. Community radio is a means to reach every home in the district with dedicated content that interests, informs, and entertains.
As our tagline says: நம்ம மக்களின் குரல் (Namma Makkalin Kural), we provide a channel through which the voices of the people of Salem District can be heard. Our programs like Faces of Salem, Agriculture Thursday, or Minds of Women, are directly based on the feedback we have received through our regular community engagement.
People's Power Collective (PPC), a collaborative partner of Sona FM, is a non-profit organization that specializes in Community Radio training, capacity building, and skilling. Over an 18-month period, starting in August 2022, using their custom-designed incubation model, PPC will work with the Sona FM Team which will culminate in a self-sustaining, robust, and people-centred community radio station.
PPC views Community Radio as more than just last-mile information dissemination; rather it is a two-way communication ecosystem that welcomes all stakeholders to engage in progressive dialogue via actionable content.
Management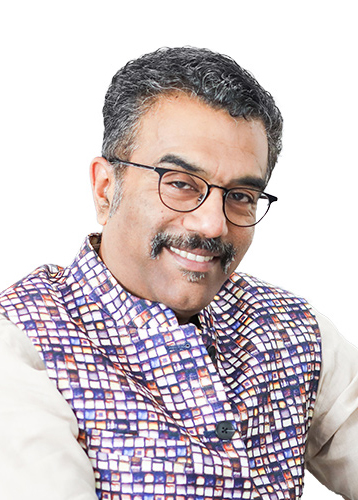 Growing up in 1980s India, radio was my main means of listening to the latest music, be it Indian movie hits or western pop. I was fascinated enough to ham a radio set in 1980 and on every Sunday for a couple of hours "broadcast" music to my friends in the block where I lived. And it went on for eight years! The seed of the idea, radio and community, lay dormant for a while and took root a few years ago. While frequenting Salem and Yercaud I realized that for a vast majority of people living here, unlike in big, metropolitan Bangalore, radio was still the go-to source of news, entertainment, and culture.
In the western world, as well as in big Indian cities, there is a proliferation of radio stations, and we are spoilt for choice. But there are still parts of our country where people are deprived of this choice, be it in the hills of Yercaud, in rural areas of the Salem district, or in the town itself. Salem District is a vibrant melting pot of urban and rural communities, where large and small industries from steel to handloom thrive side by side with agriculture, organic farming, educational institutions, and tourism, making it a perfect ecosystem for community radio. Unlike visual or social media, radio is not distracting and allows us to do more than one thing at a time, whether it is listening to programs while driving to work, polishing silver anklets, weaving cloth or a street vendor selling her wares.
Valliappa Foundation is proud and honoured to present Sona FM 89.6 Community Radio, the culmination of a youthful dream and decades-long desire to provide space, means and voice for the people of Salem District, to build community through dialogue and exchange of views, to promote local culture, sports, music and business, and to disseminate information on any subject that may be of interest to you.
What better or more powerful way is there to bring together and celebrate a diverse lifestyle?
Core Team Sona FM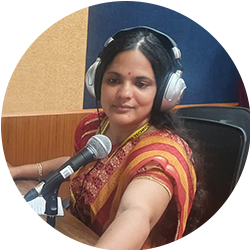 Anandhi Jeeva
Anandhi Jeeva is an accomplished Bharatanatyam artist, teacher, and choreographer, and an author of two books. The group, 'Let us unite in the name of Tamil', founded by Anandhi, provides a stage for the students to excel in oration and writing. Adding to its credits, the group has published nine e-books. She is the coordinator of the 'One-rupee Science' club that conducts Tamil workshops, debates, and research in Science and Technology. Anandhi supports Sona FM in developing content and writing.
Ilakkiya
A master's in Tamil Literature, Ilakkiya has strong oratory skills and poetic sensitivity. A native of Vaikuntham, Salem, she is the winner of The Oratorical Competition 2022 conducted by the Tamil Nadu Minority Commission, for which she was felicitated by the Chief Minister. She has won several other international competitions. She is an aspiring motivational speaker and author. She is a part of the core team at Sona FM, focuses on content, and brings her skills, warmth, and quiet confidence to her work.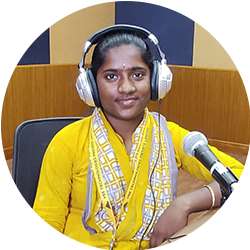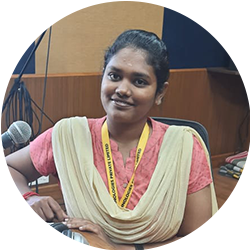 S. Kiruthika
An engineer by qualification and an artist by passion, S. Kiruthika, who hails from Sivathapuram, Salem, has a number of accolades in the field of fine arts. She is proficient in cloud computing and digital marketing and has been a delightful find for Sona FM. Her interpersonal skills and curious mind settle her in the fieldwork at Sona FM.
Padmavathi
Padmavathi, hailing from Karungalpatty, brings with her eclectic experiences, learnings, and maturity that make her an integral part of the Sona FM core team. She has completed her Teacher's Training and has worked in the insurance sector as well. She is one of the prominent members of Green India and is a strong advocate of a green environment.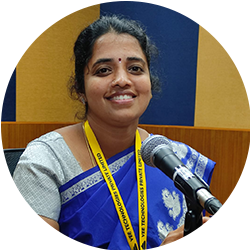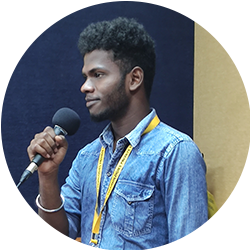 Bharath
A graduate in Visual Communication from the prestigious Sona College of Arts and Science, Bharath and Sona FM match well sprouting from the same Banyan roots. Apart from being a talented singer, an avid traveler, a filmmaker, and a photographer, he is a movie buff. He believes there are no mistakes in life but only experiences.
K. Nagarajan
A native of Sukkambatty, K. Nagarajan has a master's in Commerce. A dynamic youth, who was given the title of Mr. Fashion Lord in 2021. He divides his time between Sona FM and his other pursuits.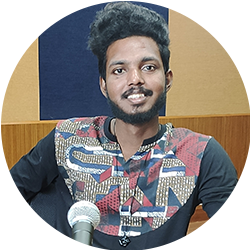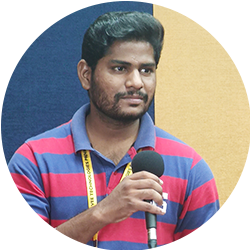 Balan Subramani
Balan Subramani a qualified mechanical engineer from Salem, gratifies his creative streak by dividing his time between cricket, movies, script writing, and music. He has honed his presentation skills by engaging in paper presentations, journal publications, and short film directions during his college days.
Team People's Power Collective (PPC)
Saritha Thomas
The Founder and Managing Trustee, Saritha Thomas is the driving force behind PPC. An alumnus of Sophia Polytechnic, Mumbai, with a PG Diploma in Social Media & Communications, Saritha has worked across continents and popular radio networks, such as Radio City, the Arabian Radio Network (the UAE), BBC World Service Radio, and BBC Radio 4 (London, UK). She is also a fellow at The School of Social Entrepreneurs, London.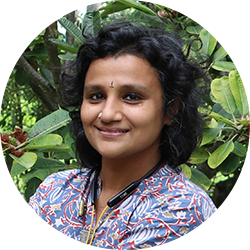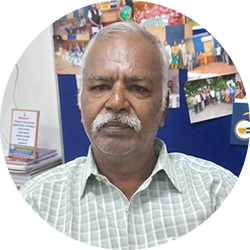 Dr. E. James Rajasekaran
Working with some of the most impactful NGOs of Tamil Nadu, Dr. E. James Rajasekaran has dedicated over four decades of his life and effort to community service. He served as a journalist for vernacular newspapers and house journals and was also the Station Manager for the Pard Community Radio Station for more than six years. He has contributed as a field worker in various regions of Tamil Nadu, such as in Kodaikanal in the upper hills, rural areas in Sivagangai, and Madurai districts & slums in the city of Madurai. He works as a Programme Trainer.
R.S Parithimal
Hailing from Madurai, the cultural seat of Tamil Nadu, R.S parithimal has substantial hands-on experience in community radio. A passionate person and a perpetual learner, he exudes exemplary grit in accomplishing tasks and a spirit of community service. He supports as PPC's Studio/Sound Engineer and Production Trainer on this program. Saritha counts on the life-changing capacity of community radio that offers communities an accessible, binding social medium. She believes Community Radio has the power to change the status quo, simply by being inclusive, and building stronger, forward-thinking communities. She supports Sona FM as a Lead Trainer/Capacity Builder.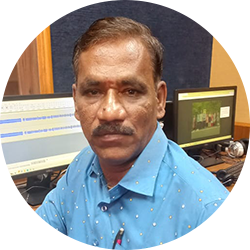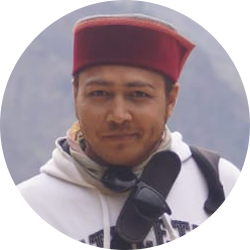 Arun Sarkar
Arun Sarkar contributes to PPC as Programmes Associate. With Sona FM, he offers his assistance as Fieldwork and Database Management Trainer. In his quest to have a holistic view of society, he has been passionately involved in voluntary community work & community organization, since his childhood. His past social work projects in the fields of livelihood, education & agriculture have been great learning experiences for him and have offered him deep insights into the hearts & minds of rural communities in the hill state of Uttarakhand. An eager learner & practitioner of social work, he is enthusiastic about the role People's Power Collective plays as a community media training, capacity sharing & skilling organization, and as an incubator for community radio, across the country.
Diwakar
Diwakar, based in Poosaripatti, Salem, is an optimistic and dynamic individual and passionate about music which keeps him positive and energized. Formerly an audio engineer with Hello FM and currently an audio engineer at Future Chord Studio, Diwakar comes with ample experience in radio program production. Being a consultant with People's Power Collective (PPC), he joins the team of trainers working on the incubation of Sona FM.
He has notable hobbies and interests including singing, composing music, and traveling. The credit for the original composition of the Sona FM jingle goes to him.